Design
Book design includes both cover and interior design for both print and ebooks. Print covers usually require professional design skills, though KDP offers a do-it-yourself tool, as described below. Complex interior layout also usually requires professional skill, though authors can lay out their own novels and other books if they contain few or no illustrations.
Interior Design
Complex interior layouts require professional skills and software such as Adobe InDesign, which has a steep learning curve and requires an understanding of traditional typesetting and printing concepts.
If you're producing a coffeetable book, a cookbook, or any other heavily illustrated volume that has multiple page layouts, you should hire a professional to do the interior design.
Warning
Be sure to have your book edited and proofread before sending it to an interior designer. Minor changes such as spelling corrections and rewording sentences are much more difficult in design programs than in Word. They also annoy designers, whose time is costly.
If your book interior is black and white and is made up mostly of text with few or no illustrations, you can lay the book out in Microsoft Word on your own.
KDP offers a set of Microsoft Word templates for book interiors. These templates can be used to publish on both KDP and Ingram Spark and will save you hours of fiddling with Word settings. The templates include consistent styles, proper section breaks, mirrored margins, and many other important elements that most first-time authors would have to learn the hard way. [The templates need one modification. See Modifying KDP Templates at the bottom of this page.]
If you're publishing through KDP, you can upload the Word document directly to Amazon for publishing. Ingram Spark used to make you convert Word docs to PDF-X format, which was an enormous pain in the ass. They now accept Word documents and will do the conversion for you.
Producing PDF/X files is nearly impossible without the right tools. See the PDF/X page for a list of tools that can produce this print-ready format.
Note
If you're using Microsoft Word or a similar word processor for layout as well as editing, be sure to use styles instead of applying custom formatting to each chapter heading and paragraph. The KDP print templates define five or so styles that cover everything you'll need when publishing a novel.
These templates also define each chapter as a section, which is good practice as it gives you flexibility in defining the headers and footers of each chapter. If your entire book consists of a single section with only page breaks (instead of section breaks) at the end of each chapter, you will not be able to customize the headers and footers within each chapter.
Interior Design without Microsoft Word
If you use Scrivener, you can export your writing directly to PDF. Scrivener has a steep learning curve, but many writers swear by it.
Reedsy's online book editor is free and easy to use. It can generate your ebooks and print PDFs easily.
Cover Design
If you want to design your own cover, free online tools like Canva make the process fairly easy, at least for the ebook cover. Print covers require specially-generated templates that match the dimensions of your book. You'll need to have your book interior all laid out and ready for print before you can generate a cover template, because the template generator needs to know how many pages are in the book before it can determine how wide the spine should be.
KDP offers a free online cover template generator, as does Ingram Spark. Use the generator belonging to whichever service you'll use to publish your book.
The cover template is nothing more than a PSD (Photoshop) file with custom markings for a designer to know where to put the front cover elements, back cover elements, and spine text. The designer still has to create his or her design and fit it into the allotted spaces.
Note that these cover templates can optionally include a bar code, so you do not need to buy a bar code from Bowker.
High Quality Professional Cover Design
A professionally designed cover will help your book sell. As an indie author, you'll do most of your selling online. Readers scroll through thumbnail-sized covers on Amazon, Barnes and Noble, and Kobo looking for visual cues that tell them:
this book is in the genre I want to read
this book appears to be of high quality
If your cover can't satisfy those two points, the reader isn't going to click through to learn more. You've already lost them.
Readers looking at physical copies of your book will be able to see even more in the cover, including what the book is about, its theme or mood, and whether the colors, layout and design work.
Professional-quality covers can cost anywhere from $200 to $1500, depending on the complexity and requirements. If you believe in your book and you want it to sell, this is almost always a good investment.
Reedsy and Girl Friday Productions both offer top-quality work.
Bargain-Priced Covers
If you're looking for a cheaper option, and your book falls into an easy-to-describe category (e.g. "vampire romance", "stock investment advice"), 100 covers can produce a cover similar to the top-sellers in your genre for about a hundred dollars.
Do It Yourself Book Covers
KDP has a free tool called Cover Creator to help you build your own print book cover.
eBook covers are easier to create on your own because they don't require the same layout precision as print book covers. You don't need to take bleed marks into account or understand how your computer monitor's RGB colors will translate into the print world's CMYK colors. eBooks have only fronts, no spines or backs.
You can create ebook covers quickly with Canva, though you'll find the hardest part is finding a good cover image. The best places to find free, high-quality images distributed under the permissive Creative Commons licence include:
Canva includes some simple book cover templates which generally consist of large title text over a background image of your choosing. If you get the colors and the image right, these simple templates can be surprisingly effective.
Keep in mind that when readers search on Amazon, the results include just a thumbnail of each book's cover image, along with the title, author, price, and a star rating. The thumbnail of your cover has to grab the reader for just a second or and has to convey that this is the type of book they're looking for. That is, they should know at a glance whether it's a thriller, a romance, a space odyssey, or whatever. A single striking image, bold color, and large text can do the trick.
Modifying KDP Templates
The only flaw in Amazon's KDP print templates is that they don't use widow and orphan control. A widow is a lone line or partial line that begins a new paragraph at the bottom of a page. An orphan is a lone line or partial line at the top of a page. Orphans especially look bad at the end of a chapter, where you may see a single word all alone at the top of an otherwise blank page.
Microsoft Word includes a layout control feature to prevent widows and orphans. To turn this on in the KDP templates, right click on the style called CSP - Chapter Body Text and select Modify.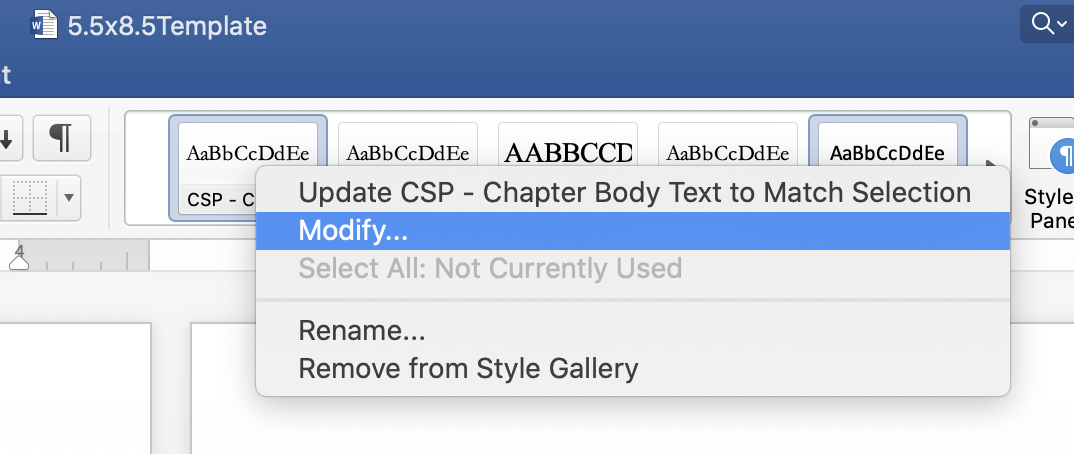 In the bottom left corner of the Modify Style dialog, choose Paragraph.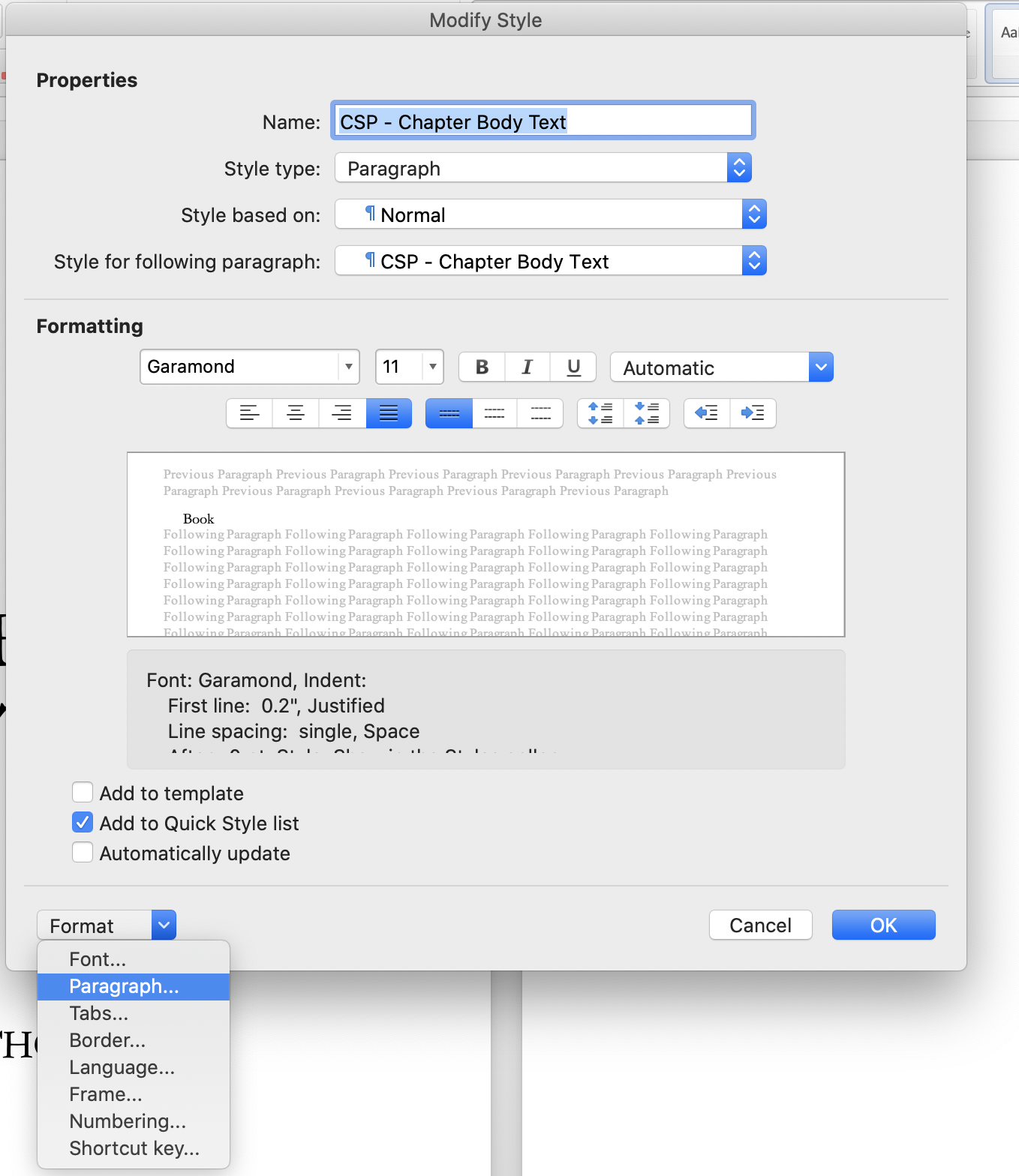 On the Line and Page Breaks tab, check the box next to Widow/Orphan control, then click OK at the bottom.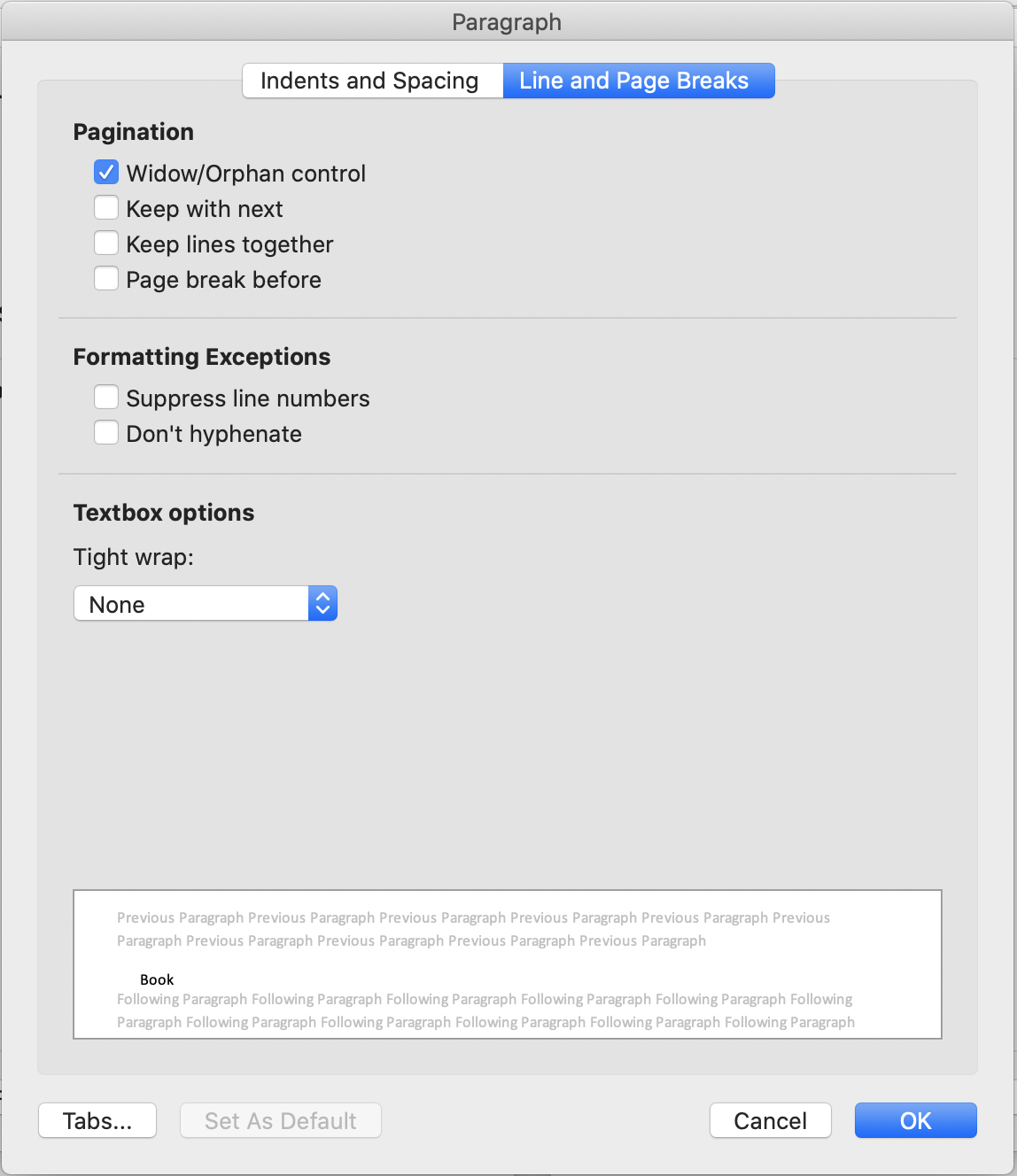 ---
Last update: 2022-02-10